Participatory Governance in Culture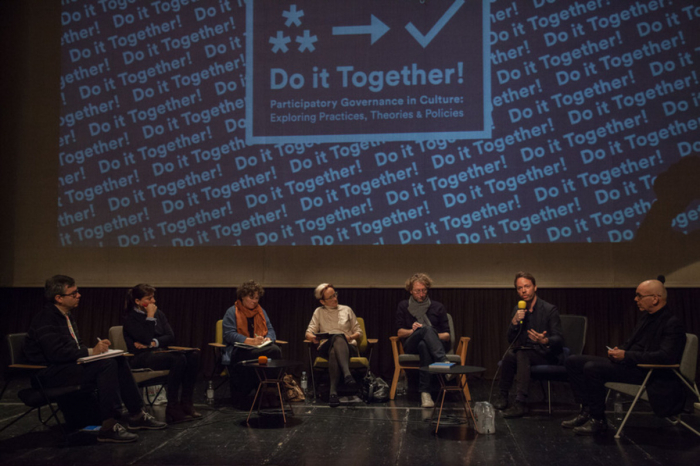 "Approaches to Participatory Governance of Cultural Institutions" is a two-year project that was implemented from 2016 to 2018 with the support of the UNESCO International Fund for Cultural Diversity (IFCD). The project was focused on existing and emerging models of innovative cultural institutions that are being developed around creative spaces based on the principles of participatory government. The project explored the active role of relevant stakeholders (public authorities, civil society organizations, creative industries and local community representatives), in planning, decision making, implementation, monitoring and evaluation of policies as well as developing innovative approaches to governing cultural institutions. Within the project, a number of activities were realized, such as research of different participatory practices models, discussions with civil society organizations, "Knowledge exchange and capacity building" workshops for creative sector, decision makers and local community in seven Croatian cities (Dubrovnik, Čakovec, Karlovac, Pula, Rijeka, Split and Zagreb) and international and interdisciplinary conference "Participatory Governance in Culture: Exploring Practices, Theories and Policies. Do it Together" held in Rijeka.
Activities within the research of participative models and institutional frameworks also included the analysis and consideration of public policies; case studies of 7 emerging participatory governance models in Croatia (Čakovec, Dubrovnik, Karlovac, Pula, Rijeka, Split, Zagreb) and online mapping of praxis in participatory governance and innovative cultural institutions in Croatia and Europe.
A series of knowledge exchange and capacity building meetings were held with local and national creators of public policies and representatives of the civil and creative sector and local communities within the framework of knowledge exchange and capacity building activities in the 7 cities involved in the project (Čakovec, Dubrovnik, Karlovac, Pula, Rijeka, Split, Zagreb).
The published collection of papers "Do it Together. Practices and Tendencies of Participatory Governance in Culture in the Republic of Croatia" builds on all the collected data, conducted analysis and gained insights. This book, containing notes for cultural policy, was created as a joint work of the researchers and the director of the Foundation. Besides the wide theoretical coverage and analysis of concepts such as cultural participation, decentralization, local cultural planning and development and participatory governance in culture, the book included the creation of seven case studies comprising seven different models of participatory governance of socio-cultural centers that are being developed in different parts of Croatia: Lazareti Socio-Cultural Centre in Dubrovnik, Community Centre Čakovec in Čakovec, Socio-Cultural Centre in Karlovac, Molekula in Rijeka, Rojc Community Centre in Pula, Youth Home in Split and Pogon — Zagreb Centre for Independent Culture and Youth in Zagreb. The book also proposes recommendations and analytical framework for changes in the cultural policy.
The "Participatory Governance in Culture: Exploring Practices, Theories and Policies. Do it Together" international conference held in Rijeka in November 2017 marked the end of the project's implementation. The conference gathered practitioners, researchers and public policy creators from a wide array of disciplines: cultural policies, art management, architecture and urbanism, sociology, philosophy, political sciences and economy who discussed and looked at different approaches, roles and meanings of participatory governance in culture in different geo political contexts and the ways in which participatory governance can contribute to cultural sustainability. The dynamic conference programme encompassed various formats: keynote speeches, plenary discussions, research paper sessions and praxis presentations.