The Foundation in ENCATC Board
ENCATC network elected the new Board for the period from 2021 to 2023.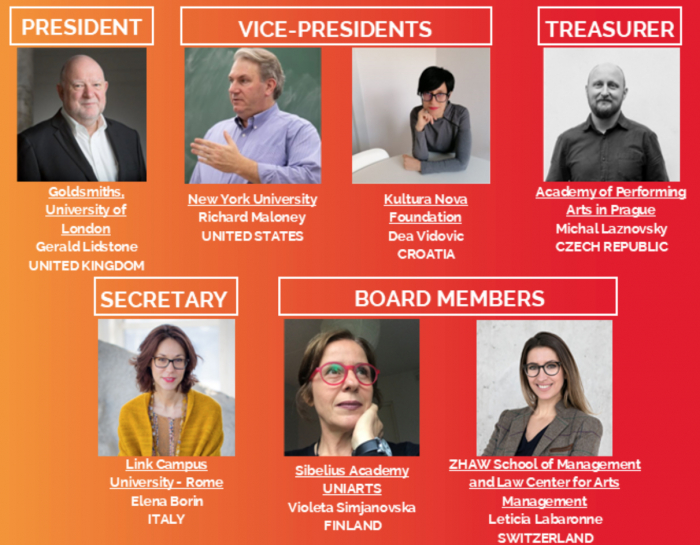 After the members of the ENCATC network elected seven members of the new term of the ENCATC Board on November 26th 2021, among which was Dea Vidović, director of Kultura Nova Foundation, who was reelected for the third time following her two successful mandates in the Board 2017 to 2019 and 2019 to 2021 terms, the new ENCATC Board held its first meeting online on 30th of November 2021 at which time the Board functions were defined for the upcoming two-year period.
The ENCATC Board elected Gerald Lidstone, Director of the Institute for Creative and Cultural Entrepreneurship, representing Goldsmiths, University in London as President, and the Foundation's Director Dea Vidović and Richard Maloney from New York University were elected vice-presidents. Michal Lázňovský from the Academy of Performing Arts in Prague was appointed Treasurer, and Elena Borin from Link Campus University - Rome as Secretary. The remaining members of the Board are Leticia Labaronne from ZHAW School of Management and Law Center for Arts Management in Switzerland and Violeta Simjanovska from Sibelius Academy, University of the Arts Helsinki.
For the next two years, the Board members will continue to advocate for excellence in cultural management and cultural policy education, try to professionalize the cultural sector to make it sustainable, and provide the academic, research and professional communities a unique platform for discussion and exchange at the European and international level.
ENCATC is the leading European network for cultural management and policy, and is co-financed by the Creative Europe EU programme and gathers more than 100 higher educational institutions and cultural organizations from more than 40 countries. Kultura Nova Foundation has been a member of ENCATC since 2015.