3rd ADESTE+ Summer School Completed
Presentation of project proposals developed through the programme concluded the third and final edition of the Summer School realized within the framework of the ADESTE+ project.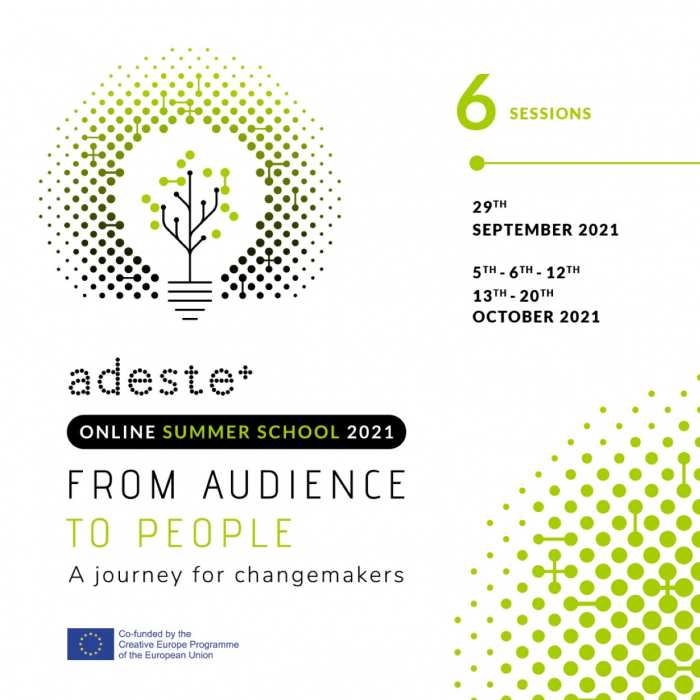 Third ADESTE+ Summer School entitled "From Audience to People. A Journey for Changemaker" was held online from September 29th till October 20th. The programme of the Summer School was conceived in six sessions through which participants had the chance to get acquainted with the methodology developed in the ADESTE+ project. Participants also had the chance to implement the methodology on concrete examples of case studies which presented their challenges. Case study organisations were Centre de Cultura Contemporania de Barcelona – CCCB, Zacheta Gallery from Warsaw, Tamasha Theatre Company from London, cultural centre Paraloup from Cune, Croatian Cultural Centre Sušak from Rijeka, National Theatre Gävleborg from Gävle and Public libraries from Oeiras. The programme was run by the partners in the project. Next to the presentation of the methodology, the programme consisted of workshops and presentations of good practices. Each of the case study organisations presented a challenge on audience development they meet in their work to the participants. The participants' task was to propose an answer to the given challenge by applying the ACED (Audience Centered Experience Design) methodology developed through the project. Participants worked in groups gathered around the respective challenge on which they worked together with the facilitators throughout the whole duration of the programme. Summer School was concluded by the final session in which the seven groups presented answers they came up with through the process.
The programme of the Summer School was attended by 87 participants from 27 countries, among whom there was 12 participants from Croatia.
The "Audience DEvelopment STrategies for cultural organisations in Europe (ADESTE+)" project is implemented by fifteen partners from seven European countries with the support of the Creative Europe programme of the European Union. ADESTE+ project is focused on developing methodology aiming to encourage organisational transformation of cultural institutions and organisations towards a more audience-focused approach.