ADESTE+ European Conference and Policy Forum 2021
Closing events within the ADESTE+ project will be held in a hybrid form.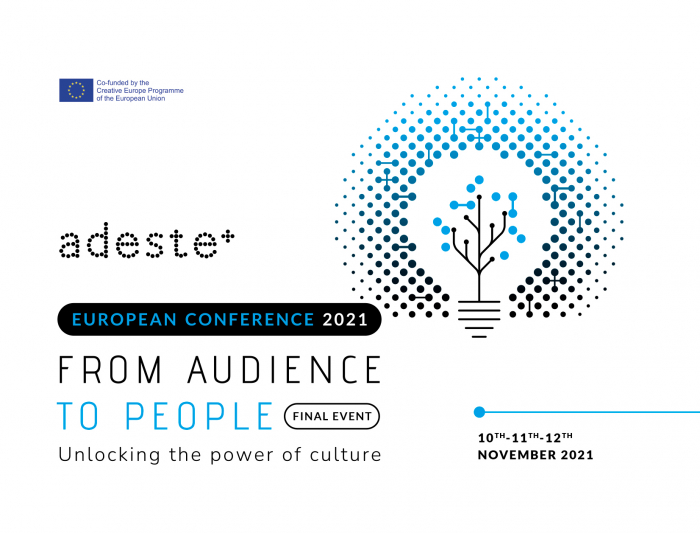 From Audience to People – Unlocking the Power of Culture, closing ADESTE+ event, will be held from 10th till 12th of November in Turin and online. ADESTE+ partners and keynotes will meet face-to-face in Turin, while, due to the COVID-19 pandemic, the public will be able to join in virtual space in order to ensure participation to a wider audience.
Within the programme the ACED model for Audience Centred Experience Design, developed through the project, will be introduced. ACED model is aimed to support cultural actors in organisational transformation towards stronger audience-centred approach in their work. The model will be available as an online platform to guide cultural professionals through experiences, resources and tools which will enable them to widen the connections with their communities. During the Conference participants will be engaged in the discussion on possibilities of organisational change driven by audience-centred approach, as well as exchange of experiences and perspectives with already existing initiatives focused on audience development, supported by the programmes of European Union.
Third day of the programme is dedicated to the Policy Forum and debate on how to ensure a policy framework which would foster audience-centred organisational change. Within the programme a set of recommendations aimed to support cultural sector in participation empowering will be discussed among experts and policy makers.
Participation in the Conference is free, but registration beforehand is required. More information on the Conference is available here, and detailed programme can be downloaded here.
ADESTE+ project is co-financed by the Creative Europe Programme of the European Union.