Inside and Out
Publication on methods and practices of organisational transformation for participation in culture concludes four-year project ADESTE+.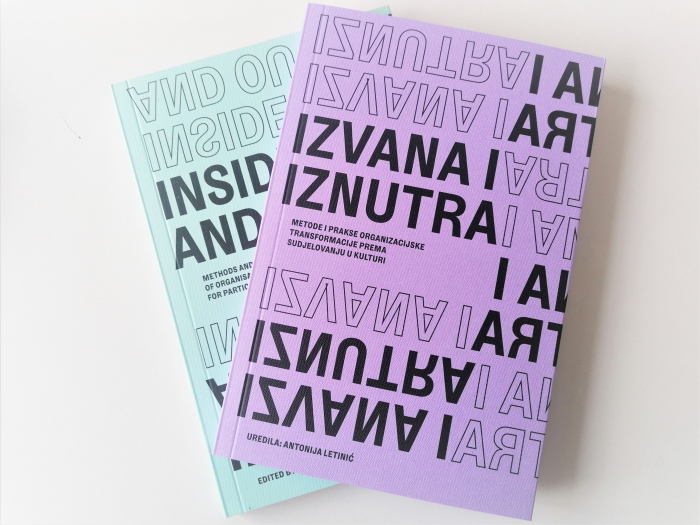 In the framework of the Kultura Nova Edition, the Foundation has published a manual "Inside and Out. Methods and Practices of Organisational Transformation for Participation in culture".
The publication, dedicated to participation in culture, gives an overview of the development and relations between cultural policies and participation. It considers disagreements and misunderstandings regarding audience as key challenges of the cultural sector in terms of participation, and presents different practices that integrate participation in the overall operating of the organisation. The publication is produced in the framework of the European project ADESTE+ (Audience DEvelopment STrategies for cultural organisations in Europe) dedicated to developing methodology which would support organisations in culture when implementing transition towards a stronger audience centred approach. Thus, it is also a document of the experiences, knowledge, and insights from various meetings and the project itself. It was conceived as a manual to be used by anyone interested in delving into the issue of audience development and citizen participation in cultural production.
Publication, edited by Antonija Letinić and designed by Petra Milički, is published in Croatian and English languages, both in electronic and print editions, under the Creative Commons Attribution 4.0 International licence and can be downloaded here.
Besides the publication "Inside and Out", the ACED methodology, together with all the tools necessary for its implementation is published on the web platform where it can be found in pdf format in seven languages: English, Spanish, Portuguese, Danish, Italian, Polish and Croatian.
Project ADESTE+ is implemented with the support of the EU programme Creative Europe.